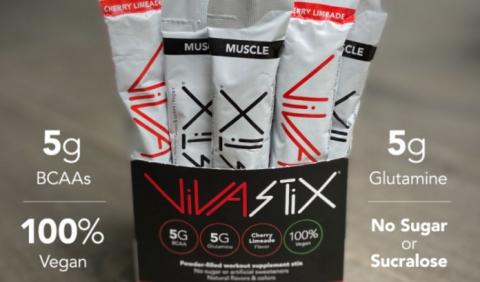 Workout supplements are all the rage when it comes to building muscle and accelerating fitness gains. Apart from working out, not only do you need to keep an eye on what you eat, but also take proper supplements for your diet that help your body reach your fitness goal. Using supplements is an advice that every trainer and gym professional gives when you start working out, but with the high number of options available in the market, how do you know which is the best one for you?
If you're on your fitness journey and are looking for a workout supplement that is the perfect mix of ingredients and is also 100% vegan, try VivaStix Muscle: BCAAs + Glutamine + Beet Root premium workout supplement. It offers an optimal ratio of 2:1:1 ratio of L-leucine, L-isoleucine, and L-valine that is created using a completely safe and plant-based fermented BCAAs ignite protein synthesis process. This very specific formula is perfected with research and backed by science as the above ratio of BCAAs makes all the difference in getting to your target body.
They also don't contain any caffeine, stimulants, sugar, or Sucralose and these Fermented Branched Chain Amino Acids make a great drink for your work out that is completely natural. The supplements are produced in an NSF certified facility and the brand is also part of the Natural Products Association.
The primary goal of the VivaStix premium workout supplement is muscle building, fat loss, and recovery. This is possible due to the amino acids, glutamine, and beet root powder that together accelerate muscle growth, burn fat faster, reduce recovery time, prevent fatigue, as well as deliver more oxygen to your muscles when you are working out at the gym or outside.
The supplement comes in single serve sachets for easy use every day and pack a high dose of 10 grams of high quality vegan amino acids per serving. This portable and easy to use option allows you to enjoy your drink anywhere with ease, whether at the gym or home. Just add it to water or any other beverage that you like and reap the benefits of this delicious drink!
Another great benefit of VivaStix Muscle: BCAAs + Glutamine + Beet Root premium workout supplement is that the vegan ingredients they use are premium quality and completely safe. There are no extra additives or harmful and cheap shortcuts taken to create the supplement, thus offers great results with regular use. It is also Keto and paleo friendly.
There is no doubt that the VivaStix supplement is a great option for people looking for all natural supplements that are vegan. They are also the perfect way to accelerate your muscle growth and ensure you stay on your path towards fitness!