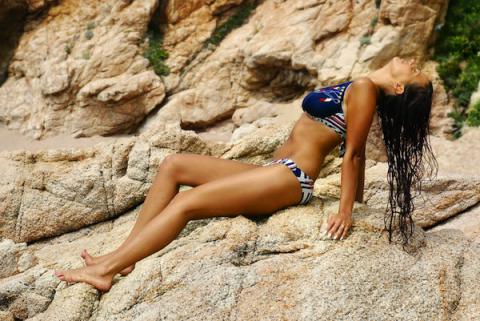 In every way, summer is my favorite season. The weather, the sun, getting tan, hitting the beach-these are all reasons that keep me waiting all year for May to lighten up my life for a couple months. You can imagine how depressed and helpless I felt once I gained a couple of pounds and my own reflection in mirrors was what was keeping me from enjoying my favorite time of each year. I felt ashamed of the way I looked and how I let myself lose control of my own life. After hiding indoors with the gloom of my misery and insecurity I was fed up with watching every sunny day go by without being able to enjoy the outdoors and my favorite summer activities. I wanted to look hot in a bikini again, I wanted to stay out all night in sultry heat and flirty dresses. However, my weight gain was keeping me from being happy. My best friend had just lost twenty pounds by hiring a personal trainer, adhering to a strict diet and using a diet supplement. I was jealous of her weight loss success and started turning envy into inspiration.
Like everyone else struggling with weight loss-the quickest and easiest fix is always sought for speedy slimming down. These methods are rarely safe and almost never effective for long term weight maintenance. After doing research and talking to my doctor I came to terms that if I wanted to look and feel my best for the rest of my life I will have to embrace controlling my lifestyle the hard way with exercise and diet. I worked with my doctor to design a realistic diet plan for the next month to follow in order to get used to eating healthier. A lot of my new diet choices involve swapping sugar and artificial food and junk with delicious alternatives like honey, organic desserts, savory snacks, and a schedule of multiple small meals every day. These changes took care of my enormous sweet tooth and my lack of focus with what I put in my mouth. It's amazing how much better I actually feel even mentally just by substituting junk and sugar with equally delicious choices like hummus, grilled chicken, and Mediterranean inspired salads. I had incredible natural energy that I began applying to a new active lifestyle. I got over my fear of going to the gym and stepping outside of my house to work out. I quickly realized that in the end my weight loss and health was only for myself and that I would have to let go of my insecurities to effectively overcome them completely.
Once I started frequenting the gym it became easier to commit to working out and I started craving that clean satisfaction that comes from the sweat and grueling physical work. The new friends I made at the gym helped me stay motivated and gave me the best exercise advice of my life. I began running and taking fun classes that made it easier to work really hard. I enhanced my new found energy with the perfect diet supplement line of products called Shredz. With a new diet, commitment to exercise, and safe energy boosting supplements I have lost 15 pounds in one months and am well on my way to losing even more. Most importantly, I am back to loving every part of summer and being able to enjoy it with my new body and mentality to the fullest. Everyone has a unique body and different ways to effectively stay healthy. Diet exercise and Shredz brought me to the amazing mind and body I have now and can do the same for you!